Pastor – Wes Byas
Reverend Wes Byas came to Central Christian Church in August of 2011.  He is the Senior Minister for the congregation.  Preaching, teaching and pastoral care are some of the gifts Wes shares with this church and he brings a sense of servanthood and healing ministry, as well as leadership within this congregation.
Wes is a U.S. Navy veteran who served seven years during Vietnam.
He serves as a member of the Planning and Zoning Commission in his hometown of McGregor, TX, and he was the owner of a geriatric counseling company in Central Texas, an organization that worked to reduce depression and anxiety in nursing home residents. He has received a Proclamation from the City of Waco, TX, that declared June 19, 2011, as "Wesley W. Byas Day."
Wes has served as a missionary in Porto Alegre and Belo Horizonte, Brazil, for several years and toured the State of Texas speaking on missions and the needs therein. During his time in Brazil, he raised funds for and saw the completion of a new church building and social center for Acacio Gularte, in Porto Alegre.
Wes grew up in Fort Worth, Texas. He graduated from Texas Wesleyan University in 1983 with a Bachelor of Arts degree majoring in Humanities/Religion.  He attended TCU Brite Divinity School and graduated with a Master of Divinity in 1987.  Wes later attended Stephen F. Austin State University and graduated in 2002 with a Master of Arts in Counseling.
Wes' ministry has spanned nearly 40  years having served as Senior Pastor, Associate Pastor and Youth minister for various congregations throughout his ministerial career.
With interest in sports, woodturning and movies, Wes appreciates the time he can spend with family and friends.  He married Laura in 1996 and has three children, Chad, Christina and Seth.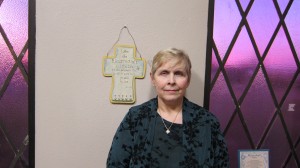 Choir Director – Beth Brine
Beth is a lifetime resident of Texarkana and holds a Master of Education Degree from Texas A&M. She has played, sung, and directed in churches all over the area. She was Choirmaster at St. Mary's Episcopal for 25 years, and is entering her 7th year at Central Christian Church. She is retired from Genoa School District where she taught Band, Choir, General Music, and Elementary Music for 25 years.
 Administrative Assistant – Tonya Shumake
Tonya is a lifelong resident of Ashdown, Arkansas.  She holds two Associate Degrees, one in Interdisciplinary studies and one in Business.  She is currently attending Texas A&M in Texarkana, working on her Bachelor of Business Administration (BBA) degree with a concentration in Management.
Tonya has served as Administrative Assistant for Central Christian Church for over 10 years.  Before coming to Central Christian Church, she was Chief Deputy Treasurer of Little River County.
Tonya has two children, Gregory and Ariel.
You can reach Tonya at (903) 792-1915 or by email: ccctxk@cableone.net
Maintenance – Brenda Barker